These easy chickpea burgers are a great dish to prepare for any vegetarians coming over for dinner or for a BBQ, but they're also great to serve as a quick lunch or sinner. Serve them on fluffy white rolls with all the trimmings - onion, tomato, mayo, lettuce - whatever you like.
Ingredients:
1 1/2 400g tin chickpeas
1 onion, chopped
75g dried breadcrumbs
2 eggs
Salt and pepper
1 tsp. smoked paprika
1 tsp. dried chilli flakes
1 tsp. dried herbs
Method of Preparation:
Drain and rinse the chickpeas, then working in batches, put all ingredients into a food processor apart from the eggs and breadcrumbs and blitz until smooth.

Stir in the eggs and breadcrumbs, then form the mixture into small patties. Put into the fridge for an hour.

To cook, heat some oil in a frying pan and fry the burgers until golden brown on each side.
Author: Laura Young.
Back to the Chickpea Recipes home page.
Add a Review or Comment:
Conversions
400g
about 14 oz

(14.1092 oz based on 0.035273 ounces in a gram)

75g
about 3 oz

(2.645475 oz based on 0.035273 ounces in a gram)
Data:
Published:
October 12, 2011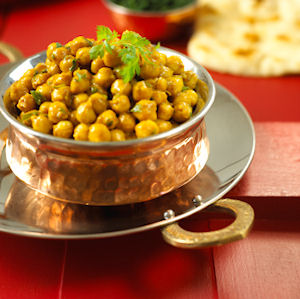 Similar Recipes:
Chickpea and Tuna Burgers


These yummy tuna and chickpea burgers are full of spice - but they use loads of simple storecupboard ingredients, making them a...

Chickpea Balls


These simple herbed chickpea balls are an excellent alternative to meatballs - they taste delicious, are packed full of protein...

Chickpea Sundal


This traditional South Indian dish is made with chickpeas, split black lentils, mustard seeds and chilli and is sweetened with ...